St Joseph Parish in Fairfield, Hamilton joins Passionist Family Group Movement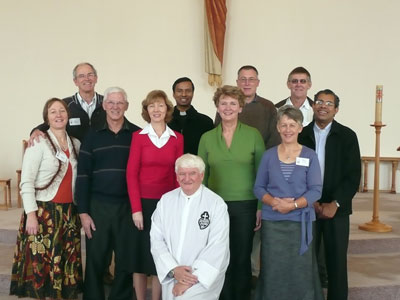 L to R: Frances Bleaken, Clive Bleaken, Peter McGirr, Dianne McGirr, Fr Seejo Thandiackal (Asst PP), Fr Kevin Hennessy, Nicki Whyte, David Whyte, Wilma Schimanski, Don Schimanski, Fr Joseph Akkara (PP).
On Sunday 11 May Fr Kevin Hennessy CP from Melbourne concelebrated Mass with parish priest Fr Joseph Akkara at Fairfield for the introduction of Passionist Family Groups to the parish. The great response meant that two weeks later on 25 May five new family groups got together after Mass for their first meeting and planning sessions. Fr Joseph along with his assistant priests Fr Graeme Alexander and Fr Seejo Thandiackal are delighted at this opportunity to build real family community into the already dynamic parish. Joint parish coordinators Dianne & Peter McGirr and Nicki & David Whyte were already 'signed up' before the introduction Mass, and they are looking forward to working with the coordinators of the five new groups, and networking with other existing parishes in the Waikato area.
The Hamilton regional PFGM team of Don & Wilma Schimanski and Clive & Frances Bleaken will provide support, ideas and encouragement while Fairfield gets up and running, and the ongoing link to the wider PFGM community. St Joseph is part of a cluster of three parishes with St Peter Chanel at Te Rapa and St Matthew in Hillcrest so hopefully the enthusiasm and success of PFG's will spread across the cluster before too long.
Join us in welcoming Fairfield to the Passionist Family. You can contact Dianne McGirr or Fr Joseph Akkara at fairfield_parish@xtra.co.nz